Home
Pages in This Section
Check out more Halloween goodies by clicking on the following categories
Halloween News, Crafty Projects, Computer Games, Grim Games Cooking Cauldron, Dreadful Decor, Gothic Elegance, Scares for Less, Village Scapes, Halloween Art, Haunted Attractions, Screen Scares
Halloween comes once a year, but searching for a good scare never stops at The Halloween Hunt.com. Collecting Halloween items, writing about events, food and history of the holiday and tracking trends are all topics that will be covered on this site.
In the coming year, I hope readers will share their own photos and experiences, adding another dimension to this spooky corner of the web. Part of the fun is making your own Halloween decorations and food, and learning new tricks to impress friends and family.
Haunting your outdoor area can be just as much fun, and the possibilities are endless for creating a scene that keeps the trick-or-treaters — or neighbors — in awe each year.
I look forward to learning more decorating and entertaining tips from other Halloween enthusiasts. Each year, new technology and scare tactics amaze me, but sometimes, I crave the nostalgic side of Halloween. Vintage art and collectibles inspire many Halloween artists to create familiar pumpkins, witches, ghosts and black cats that symbolize the holiday. I'll post interviews and information about some of my favorite artists.
And if you just want to get away from home and explore other decor, then consult the Spooky Attractions page and add an event to your calendar. I hope everyone has a spooktacular Halloween.
_______________________________________________________________________________________________________
Halloween provides me with the opportunity to write a variety of stories, including attractions, food and the arts.
If you are wondering how to start your own haunted house, then check out the story on Nightmares Haunted House organizers and some of the horrific visuals they incorporate into their spook house.
The cooking cauldron is a collection of creepy recipes sure to satisfy unusual cravings. My latest recipe was Chocolate Cauldron Pot de Creme. It was a rich chocolate treat, and thick enough to insert a witch's broom.
Witches and ghosts can be found at Halloween and any time of the year in Ron Byrum's magical paintings.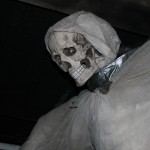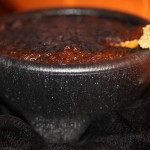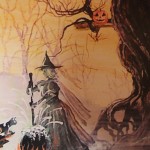 _______________________________________________________________________________________________________