Halloween News
This year is shaping up to be one of the best yet. Halloween spending is up again in 2010 and is expected to net nearly $6 billion. The National Retail Federation also reports that Americans plan to spend $66.28 on candy, costumes and decorations. The holiday falls on a Sunday this year, which allows for a full weekend of entertaining and parties. 
From my personal shopping experience, Target and Grandin Road have provided the best quality. Prices are higher at the latter, but the online site does offer some good sales as Halloween nears. Another place to score some deals on costumes and collectibles is eBay. I have never seen prices this low for items such as Department 56 and Radko. I managed to bid on an ornament that retailed for $46 and I paid $12. 
The most fun for me is mixing the old with the new to create a different scene each year. For example, I found some purple LED bat lights at Target and twisted them throughout a black tree I had. I didn't have to purchase ornaments for it, and the lights were about $10.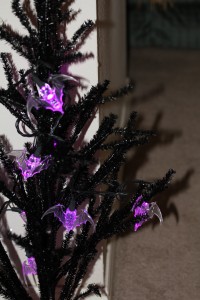 Here's a breakdown of what is most popular:
Top costumes: Mad Hatter, Alice in Wonderland, Lady GaGa, Avatar Neytiri, Avatar Jake Sully, Ironman Whiplash. Source: buycostumes.com 
Top candy: Snickers, Nestle Crunch, Butterfinger, M&Ms, Hershey's Milk Chocolate bars, Brach's Candy Corn, Reese's Peanut Butter Cups (this year a dark chocolate cup is mixed in with the milk chocolate), Kit Kat, Almond Joy. Among children, the most popular specialty items are wax lips and fangs, candy necklaces, chocolate or gummy body parts, Cry Babies sour gum, Pop Rocks Pumpkin Patch Orange, caramel apple pops, candy eyeballs, Zotz Fizz candy, Harry Potter Droobles best blowing cotton candy bubblegum and peanut butter Kisses. Source: candycrate.com 
Top songs: "The Addams Family," Monster Mash," "Toccata and Fugue," "Grim Grinning Ghosts," "Halloween Theme."  Soure: Rateitall.com
How do you spend your Halloween? Leave a comment below and share your favorite Halloween shopping, decorating or party tips. 


_______________________________________________________________________________________________________
The regular roundup of home decor and women's magazines contained some great information this year on Halloween decorating. I'll go through the best picks. I subscribe to several fashion magazines and was surprised to see a spread in Harper's Bazaar October 2009 featuring Tim Burton's Magical Fashion. This was truly a delight and something I will save for future costume inspiration. Skeleton limbs intermingle with black dresses against a nightmarish backdrop that fans expect and love in a Burton production.
1 Comment on Halloween News