Cooking Cauldron
Pumpkins make the perfect bowls. Even if you aren't making a pumpkin-based soup or stew, the cheerful orange globes create instant October ambiance. I decided to prepare one of my favorite soup recipes on this September night. No chill is in the air yet, but I'm already in a fall state of mind. This hearty mixture is extremely filling. Cabbage, celery, onion and kidney beans also make it a healthy choice. Most of the fat may be eliminated by purchasing lean ground beef or draining the fat from the meat before adding it to the pot.
Sodium was slashed in half with the use of Muir Glen Organic Tomatoes with low sodium. A healthy dose of garlic powder adds enough salty flavor to prevent a bland taste. Enjoy this recipe all throughout the year, but especially on rainy or cold days. There's nothing as comforting as a good bowl of soup.
Cabbage Beef Soup
1 pound lean ground beef
1/2 medium head cabbage, torn into bite-sized pieces
2 ribs chopped celery
1 medium diced white onion
1 16-ounce can kidney beans
1 16-ounce can diced tomatoes
24 ounces beef broth
1 1/2 teaspoons garlic salt
Salt and pepper, to taste
Brown ground beef and drain. Add remaining ingredients in a large pot and bring to boil at medium heat. Turn burner to medium low and simmer about 45 minutes.
Servings: 8
The pumpkin used in the above recipe performed double duty as the bowl and ingredients. The scraped out pumpkin flesh was just wasting away on the cutting board, so I thought it could be used for making bread. Real pumpkin versus canned is more difficult to work with, but the taste can't be compared. I found the pumpkin similar in texture to zucchini bread — moist and soft. I used the innards of one pie pumpkin, which is on the small side, so I would use two pumpkins next time. Chocolate chips are optional, but I always like the pairing with pumpkin flavors, as in pumpkin cheesecake with a black bottom crust.
Candy corn and melted Almond Bark drizzled on top add a little color and extra sweetness to the bread.
Chocolate Chip Pumpkin Bread
1 1/2 cups all purpose flour
1 1/2 teaspoon baking powder
1 teaspoon baking soda
1/2 cup granulated sugar
1/2 cup brown sugar
1 teaspoon pumpkin pie spice
1 stick butter
2 eggs
1/2 cup semisweet morsels
1 1/2 cups pureed pumpkin
1 teaspoon vanilla extract
1/2 teaspoon Grand Marnier
1/3 cup chopped pecans
Preheat oven to 350 degrees. Mix dry ingredients. Melt butter in microwave for about 35 seconds. Let cool to room temperature. Add sugars and butter. Beat eggs and stir into mixture. Scrape the insides of a pumpkin, carefully discarding seeds. Place in blender and puree, or mash with a fork. Add pumpkin to mixture and stir in chocolate chips, vanilla and Grand Marnier.
Bake for about 350 minutes or until toothpick comes out clean.
Servings: 1 loaf
The following recipe features canned pumpkin in place of the real thing. It still tastes good, but it doesn't have that fresh pumpkin smell. The texture is a little more smooth. This version makes two loaves, but in recognizing Halloween, I decided to use one of my pumpkin cake pans to decorate this one in the form a ghostly white jack-o-lantern with candy corn pupils and teeth. A little leftover almond bark served as the icing, and melted bittersweet chocolate completed the mouth and eye areas.
This is easy to make and fun to decorate.
Pumpkin Bread
1 1/2 stick unsalted butter
2 1/2 cups sugar
4 eggs
24 ounces canned pumpkin
3 1/3 cups all-purpose flour
2 teaspoons baking soda
1/2 teaspoon baking powder
1 teaspoon pumpkin pie spice
1 teaspoon cinnamon
1 cup coarsely chopped black walnuts
3 squares almond bark, for decorating
3 squares bittersweet chocolate, for decorating
Heat oven to 350 degrees; grease two loaf pans. Cream butter and sugar together until fluffy in a large mixing bowl. Stir in eggs and pumpkin. Blend flour, soda, baking powder, pumpkin pie spice and cinnamon. Stir in nuts. Pour into pans and bake about 70 minutes.
Let bread cool. Melt almond bark in microwave at 30 second intervals until all lumps disappear. Melt chocolate squares. Spread almond bark over face area and chocolate for eyes and mouth. Decorate with candy of your choice.
Servings: 2 loaves
__________________________________________________________________________________________________________________________________________________________________________
Chocolate Cauldron Pot de Creme
Creamy and rich dark chocolate was the perfect alternative to some of the sweet Halloween candy I've been munching on this month. I love dark chocolate and I'm always looking for new dessert recipes. I had some small black containers I use for salsa and other dips that resemble cauldrons, so I thought about filling these up with some treat for the October season.
The dessert was scrumptious tasting but lacked a little bit of decoration, so I added a witch's broom made from a pretzel rod and crushed shredded wheat for the bristles. The broom looks like it's stirring the cauldron by magic, without the assistance of a gnarled witch hand.
6 ounces semisweet chocolate
2 cups heavy whipping cream
1/2 cup milk (at least 2 percent)
5 egg yolks
2 tablespoons sugar
1/8 teaspoon salt
1 pretzel rod
4 to 6 shredded wheat squares
2 tablespoons creamy peanut butter
5 chocolate wafer cookies, crushed
Melt chocolate in the microwave at 30-second intervals until smooth. Whisk together egg yolks, sugar and salt, slowly adding the hot cream mixture into the yolks. Add chocolate and stir until combined.
Preheat oven to 350 degrees. Spoon the mixture into ramekins. Pour enough water in baking pan to reach halfway up the side of ramekins and cover with foil. Bake about 35 minutes or until edges being to firm. Let cool. Chill in refrigerator for about 2 hours.
Assemble broom by crushing about 4 shredded wheat squares in a small mixing bowl. Add 2 tablespoons peanut butter until "broom" holds together. Attach to one end of the pretzel and insert into chocolate mixture. Add crushed cookie
mixture to center of the pot de creme for garnish.
Servings: 6.
__________________________________________________________________________________________________________________________________________________________________________
Monster Head Caramel Apples
Caramel apples are good without any decoration, but Halloween allows for more creativity with extra candy. For these monster heads, I crushed Oreo cookies and used peanut butter M&Ms and candy corn for the eyes and mouth. The caramel was extra creamy with the addition of some heavy whipping cream I had left over from the above recipe.
4 to 6 apples
1 14-once package caramels
2 tablespoons heavy whipping cream
Place sticks down into core. Melt caramel along with cream, checking at 30-second intervals to make sure contents do not bubble over.
Roll apples in caramel; add desired candy coating. Place on wax paper to cool
Servings: 4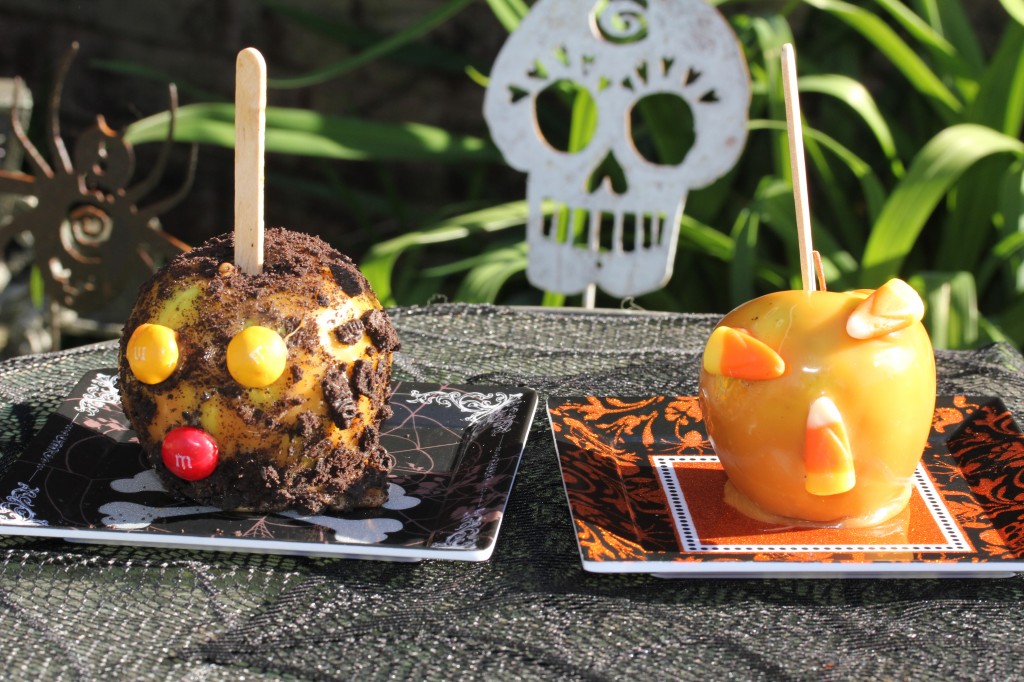 2 Comments on Cooking Cauldron